I am Salome and I came from the country Georgia (crossroad of Europe and Asia), and I am the first European Solidarity Corps volunteer in Lomma municipality, in south Sweden. Lomma is one of 62 member municipalities in the KEKS network in Sweden*.
You may wonder why I choose Sweden? The answer is easy, I have participated and organized many trainings, youth exchange programs, seminars and other non-formal education parts under the umbrella of Youth In Action program and Erasmus+, but never done voluntary service, which is the best opportunity to develop yourself, gain new skills, live in new country, meet a new culture and society, make mistakes and therefor learn from it. I choose Sweden, because Swedish youth policy and youth work strategy is very different compared to other European countries. I come here to get more familiar about it and return back to spread knowledge to my colleagues and use it in our daily work.
It's a big challenge and responsibility for me to be the first international youth worker in Lomma, which is a small seaside town, population more than 24 000; it has 2 youth centers Lomma Centralen and Stationen 2.0 in Bjärred. European Solidarity Corps is the new European Union initiative, which creates opportunities for young people to volunteer or work in projects in their own country, or abroad that benefits the community and people around EU.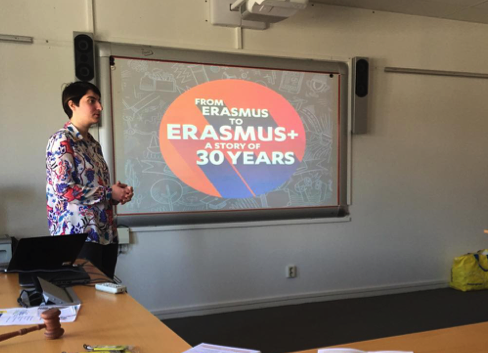 I started my volunteer service 2 months ago, my first weeks was more about introduction in the city, volunteer tasks and responsibilities, structure of municipality bodies and youth work system in schools and the youth center Centralen. Here I am doing my ESC.  I started learning the Swedish language and doing my best to become Swedish speaker. I had the honor to meet the Mayor of Lomma Municipality; we had interesting conversation about Swedish political system and population well-being, youth and culture field development, I was grateful to get his support for my future work.
My daily volunteer task is to make presentations and spread information about international youth work, Erasmus+ and European solidarity corps opportunities, and show how useful it is for young people and for youth workers, teachers etc. I help them to come up with ideas for projects and to fill application forms and to participate in international youth exchange programs. At the same time, I created the project "Youth Group", which is an open space for young people up to 13 years old; here they can gain new skills and competencies, which helps them to become more self-confidence, more participatory, active, friendly and experienced.
Last week was successful, at first I had an appointment in the City hall and I made power point presentation about Erasmus+ and ESC, only 2 youngsters was attending, but its ok, because we only started promotion of Erasmus+ evenings. I had 4 school arenas to speak with youngsters age from 14 to 17, we spoke how to be part of Erasmus+, what kind benefits it has for their age, what is youth participation and inclusion. I offered them to join our Youth Group. Last meeting was in Bjärred youth center, where I met 7 youngsters from different age. I know that its not a large number of young people, but I started it and hope to increase the number of interested youngsters. It was a sign that promotion in schools worked.
I am sharing my knowledge and experience about international youth work with my colleagues. Alongside with those tasks I am planning and working on celebration of international days, (European Day, Valborg). I am starting planning to join the #beactive company on the frame of European week of sport in 23-30 September and registration Lomma as a participant city, which would increase Lommas awareness among EU cities.
Friendly working atmosphere helps me to promote democracy, EU values and importance of youth participation, inclusion and active citizenship. I know that during my volunteering period in Lomma I would get a lot of new skills, competencies and friends.
This was a brief introduction of international youth work and voluntary work in Lomma municipality. Now you know a little bit about it and promise it will be continuing.
Salome Gugushvili
European Solidarity Corps Volunteer
Centralen, Lomma Kommun
salome.gugushvili@lomma.se
*There are in addition 3 KEKS member municipalities in Slovenia.