Inspiring Quality Youth Work is the result of an Erasmus+ Strategic partnership between eight member organisations of InterCity Youth – The European Network of Local Departments for Youth Work. The project has been going on since spring 2016 and will be finished entirely in August 2018.
The partners in the project are:
KEKS, Network of municipalities, Sweden – coordinating organisation
Municipality of Cinisello Balsamo, Italy
Kanuuna, Network of municipalities, Finland
Municipality of 's-Hertogenbosch, the Netherlands
Municipality of Stara Zagora, Bulgaria
Municipality of Thessaloniki, Greece
VVJ, Network of municipalities, Belgium
Municipality of Munich, Germany
The project's foreseen results were the following- that you can also find on this website:
A set of indicators on youth participation.
A set of indicators on non-formal learning.
A set of indicators on gender equality.
A set of indicators on inclusion of marginalized groups of youth.
A booklet where these sets of indicators are presented in combination with methods and best practices to be used when youth work should gather knowledge about to what degree activities meet the indicators.
A web based library of methods and best practices linked to the indicators, including contact information that can be used for further inquiries and cooperation.
Below you can find the finished booklet "Inspiring Quality Youth Work" and you can also find the sets of Quality indicators in an easy overview on the next pages. In addition you will find examples of questions related to the indicators and some practical examples.
The booklet "Inspiring Quality Youth Work" is available for free download and during national dissemination events in the different participating organisations the printed version of the booklet will also be disseminated.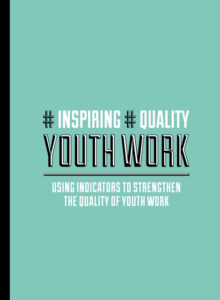 The booklet is also available in German, Italian, Dutch and French version.
The project addressed the lack of a common understanding of what constitutes quality in youth work. By creating a bank of quality indicators, it built a common platform for pratical quality development through follow up, peer learning and exchange of methods and best practices.
Inspiring Quality Youth Work provides you with the support you need in order to
give your own answers to these questions – answers that are relevant, clearly
structured and comprehensible while at the same time paying full respect to the rich diversity of local youth work.
IQ Youth Work does this through presenting a broad and clearly structured bank of indicators from which you can select indicators that fit your local context. Starting from where YOU  are, IQ Youth Work will, in a very concrete way, guide you through the whole process of selecting indicators and using them for follow up and further development.
This way IQ Youth Work will help you to:
Clarify what constitutes quality youth work in your context.
Work in a structured way with quality development.
Set clear and concrete objectives for your future operations.
Show the outcomes of your work to others.
Advocate for youth work in a knowledge-based way.
Here you can find the video about the IQ Youth Work in English by Jonas Agdur, the Chair of InterCity youth:
And here you can find the video about the IQ Youth Work in Swedish by Johanna Sundvall member of the InterCity youth booklet working group:

Here you can find the video about the IQ Youth Work in Dutch:
Here you can find the video about the IQ Youth Work in Bulgarian:
Here you can find the video about the IQ Youth Work in Italian:
Here you can find the video about the IQ Youth Work in Greek: