As my European Solidarity Corps (ESC) volunteering is coming to an end, I would like to share the highlights of my second part of the project in Sweden.
My project was full of fun and busy days. In April I had an opportunity to attend the European Youth Week events in Brussels with the Swedish delegation thanks to the MUCF, who found my ESC project very interesting and gave me a chance to go to Belgium with my colleague Mia. my project during the EU youth week in Sweden also got funding from the National Agency, which means that I planned and created four different activities in four different cities of Sweden (Stockholm, Boden, Borås and Uddevalla) to raise awareness about the EU elections and promote an Erasmus+ and other EU funded programs.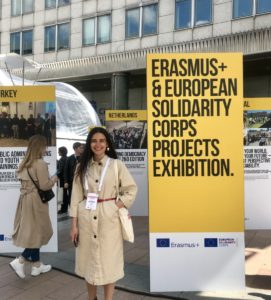 One more project that I am very proud of is an Erasmus+ youth exchange project between Ireland and Sweden. I visited Öckerö youth center several times mentoring the young participants aged 14-17 to write an Erasmus+ youth exchange project. Based on their ideas I wrote the project and applied for funding, luckily, the project got funding from the National Agency, which made all of us, but especially the Öckerö youngsters very happy! It was my first time ever working with project management all by myself, and it was a great experience.
October was also very busy due to KEKS conference that takes place every year, and each year more and more people are attending the conference. This year we had over 400 visitors! I was involved with planning, guiding the visitors and providing them with the needed information during the conference.
In November I went to Stockholm on the mid-term training where I met other volunteers from different parts of Sweden. We presented our projects to MUCF and talked about our experience as ESC volunteers, we also discussed the parts that need to be improved. During the mid-term training, we also got an insight into how to write the YouthPass.
After Stockholm, I went back to Gothenburg, where I participated in Europa Direkt's conference about European funded programs in City library Göteborg, where I presented my Solidarity Corps project and talked about Erasmus+.
By the end of November, I took part in the Primary school management in the City of Gothenburg initiative when I held presentations for 8th-grade school kids at Önneredsskolan. I visited the school during the communications and democracy theme week, where I held a one-hour presentation for each class (kids aged 14 years old) about communications, politics, democracy and Georgia. The project was very successful and based on the feedback the Grundskoleförvaltningen decided to start hosting volunteers that would take part in a school educational program.
Now it's my last week in Gothenburg and I'm leaving Sweden full of sweet, colourful memories. I fell in love with Swedish culture, lifestyle and people so much that now it's super hard for me to leave. I hope I will come back to Sweden soon, and meanwhile, I will use my experience in Sweden for my future career.
I would like to thank to KEKS staff for being the best and sweetest colleagues I've ever had. My ESC in Sweden was one of the best experiences I have had so far, and it will always have a special place in my heart.
Hej då!