This is Ewa, another volunteer from Sweden to Greece:
"Over a month has passed in Serres and my ERASMUS+ program at Praxis – the hosting organization for my volunteering services – and what have I been up to? Mostly we have been working with language lessons, UNESCO's international days and organizing event for mainly refugees. Jenny 's and my project was to create a Facebook page to promote and share an international theatre university that take place here in Serres annually. The page is made for the user to share and to interact with the event itself and to inform about the plays and screenwriters. But also to work as a photo album for upcoming years. We have made it possible for the theatre and the users to evolve this event further, and what it will turn into in the future is yet to be seen. But this is the wonder of the future: What it hold is absolutely unknown.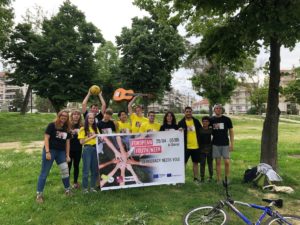 My services extend over two months, from the 2nd of May to the end of June. Here at Praxis we try to include refugees into the city life, we don't go to them, they come to us (but it is just a guideline). This view was created to break the segregation, trying to integrate the refugees into the society more actively then standing outside a camp. Whatever the pros and cons might be, I will not dig into it further, this method brings on a greater work with social media and information platforms. Leading to a lot of work with our computers, digital media, radio, graphic design and blog-posts. My main task has been to write articles to inform about international days, making matching videos and talk on our broadcast. Now we are also trying to expand our help and to target women and children and to do that we need to go to camps. That is why we have created events where we go to a camp and create different activities at the camp. For example, we did face painting, quiz, art workshop and sport activities. This was something I personally liked to do. It was not only rewarding to see the gratefulness and the appreciation from asylum seekers, it was also extremely fun and a cheerful event.  
But enough about the work. Because I also want to highlight all the fantastic volunteers that are a part of this project. We are a big group of volunteers here in Serres and it is these lovely humans that have taught me all the necessities for the work we do. They told us how to do our receipts, to manage the radio, upload information on our website, make videos and included us in their daily life. This is something I have valued high throughout my stay here.
I'll only be here for two months but I can tell the difference in staying at a place a longer time the just visiting for vacation. Meaning that this stay in Serres have brought me closer to the Greek society and habits that lies in it. This is surely connected with the idea of the home, which connotes with safety and the self itself."
Regards,
Ewa Florin