After a sunny and warm Swedish summer, we are back to work. We made a fast start and changed KEKS's website. And I worked on it. I learned how to use it first, then I prepared a guide for it. Click here to see it.
We had a meeting at Passalen and learned about their project called "Music på gården." And we learned about how to work with young people with disabilities in many ways and how to involve them in activities featly. Click here to read more.
Being a part of KEKS is an amazing feeling. I had chance to work a lot of different tasks with a lot of different people. Even though, my task can be just assembling some IKEA furnitures, choosing curtains for the office or designing some sweatshirts for KEKS sometimes. There is still something to learn about it 🙂
In KEKS, we had a Study Visit from Slovenia in September. And they visited different youth centers in Gothenburg and learned about the youth work in Sweden. They also learned about KEKS Logbook. Click here to read more about The Logbook
End of the September, there was a short term EVS project about art in Ungdomens Hus Radar72. Fourteen young people all around Europe came to Göteborg and painted together. I met them and helped the organization for this project. I also cooked for them in some days. It was so fun to meeting them. I have new friends all around the Europe now.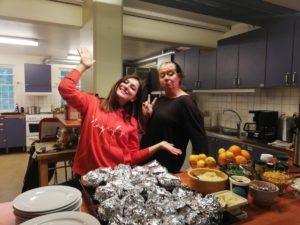 In October, I run a project called Time to Move. I visited different youth centers in Gothenburg, and made a presentation about European opportunities such as EVS, youth exchange etc. for youth. And we had a quiz about Europe with young people. And the winners got presents. I reached about 100 young people with this project.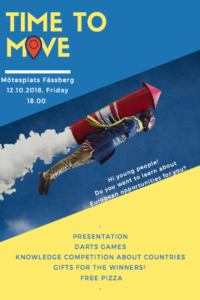 After my presentations some young people wanted to be part of a youth exchange project that we already have a cooperation in Fuerteventura, Spain. After we coordinate with the organisation, we sent 13 young people to Fuerteventura for the youth exchanges.
We are still working on the youth exchange with Ege Pedal Spor Kulubu in Izmir, Turkey. And planning to apply for it next February. It will be about sports and health. Young people are working on their own project right now. And I am helping them. Thus I'm learning how to write a project.
I had my mid-term EVS training in Stockholm a couple of weeks ago. I met other EVS volunteers from different parts of Sweden. We made presentations about our projects and organisations to Swedish National Agency. We had chance to talk about our projects and ourselves. It was a nice experience to see other volunteers and learn about different kind of projects.
After the training I got back to work. We have KEKS conference on 19-20 November. That's why we are working hard in these days. I prepared the program for the conference. Also, I will talk at the conference about my volunteering experience. All the office is very excited about the conference. You can read more about it and download the program here.
It's been 7 months since I come to Sweden. My 8-month adventure is ending next month and I'm so emotional about it. Some of my friends think I'm crazy. Because after finishing Law School I went 3000 km far from my home, without money and without knowing anyone in this country. But I can only say one thing: This was the best decision that I've ever made in my life! I'm so happy that I've been this brave and crazy. People sometimes ask me: 2 You have a great education, why are you working voluntarily?2 It's not always easy to explain. I've learned that life I not only about your education or career- it's a collection of meaningful moments. I've had great pieces for my collection during my volunteering stay and I want to say thanks not only to KEKS, but also to myself for this amazing experience!
Tugba Ozturk
tugba.ozturk@keks.se